Make Your House A Home with Sydney's Best House Painters
Painting your house is no easy feat. There is so much to figure out before even putting brush to wall. What kind of paints should you use? What are the best tools? Why do you want to paint your house in the first place? Even deciding on the colors you want to use can be stressful. After all: you will be living in these colours hopefully for many years to come.
Here at Pro Painters Sydney, our professional house painters can guarantee to make your house feel like home.
They help you achieve the look for you
Here at Pro Painters Sydney, we live and breathe house painting. We know how important colours are for making a home feel like home. We understand colour palettes like they are our first language. This means that we will guide you into finding the paint colours that best suit you and are pleasing to the eye.
They Can Guarantee A High-Quality Service
Hiring a commercial house painter can guarantee that the quality is going to be better than doing it yourself. At Pro Painters Sydney, we can go one step further. We can guarantee that the quality of our services are the best in Sydney and leave you smiling every time you look at your home. With our state-of-the-art tools and our meticulous attention to detail, there is no wonder we have maintained a golden standard of quality that is unrivalled in Sydney!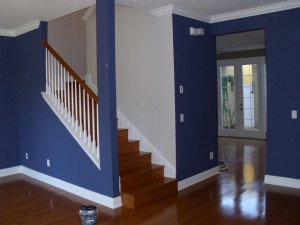 They Are Reliable and Trustworthy
Hiring a commercial house painter means that things will run smoothly. Commercial house painters know what they are doing and won't run into the roadblocks that home owners will have painting their house themselves. Commercial house painters are well organized and plan everything meticulously so that the process goes without a hitch. On top of this, they can give accurate estimates on a budget so that you do not spend more money than you need to. Luckily for you, Pro Painters Sydney has the reputation for being Sydney's most reliable commercial painters!
They Are Time Saving
One of the best reasons to hire a commercial house painter is because it will save you a lot of time. In this busy world, people will likely find it hard to put aside adequate time in painting their house. This can lead to the process taking months or going far longer than they initially hoped. Commercial house painters allow the process to go as swiftly as possible and do the work for you. Pro Painters Sydney is known for their timely services whilst also providing the best quality services!
They Offer Peace of Mind
Perhaps the most important reason why you should hire a commercial house painter is peace of mind. You can sleep soundly, knowing that the painting of your house is being done by professionals with years of experience. There is no one better who can give you this than Pro Painters Sydney.  We provide Speedy Response, Quality Service and the Best Price as well as friendly professionals who make your house their priority.
To make your house a home, contact us on 0403 360 662 or via our convenient online form and we'll get to you right away.